German President Frank-Walter Steinmeier is warning of "tougher, rough years ahead," for his country and Europe. In his address Friday dubbed a "state of the nation" speech, the German president said the war in Ukraine has led to "the deepest crisis" in a reunified Germany, citing an energy crunch, the soaring cost of living, and increasing poverty rates.

"This crisis demands that we learn to be modest again," Steinmeier said during the speech at his official residence, Bellevue Palace, in Berlin. He pledged Germany's commitment to support Ukraine and its partnership with NATO and EU allies.

In his daily address to the nation on Friday, Ukrainian President Volodymyr Zelenskyy, standing by what appeared to be a downed drone, said "the aggressor [Russia] continues his terror. We are again attacked from the sky by a flock of their crows."

"More than 30 drones were launched in two days," the president said. "The defenders of our sky prevented the enemy's vultures from breaking into the rear of the country and downed 23 Shaheds [Iranian drones]. In addition, the Kh-59 guided air missile, two Ka-52 attack helicopters and another Su-25 attack aircraft were turned into scrap metal."
Zelenskyy said that during this time period, "Russia carried out 4,500 missile strikes and more than 8,000 air raids. But we are fighting, we will shoot down more."

It was not immediately clear if there had been any casualties.
In his speech, the Ukrainian president marked the anniversary of the liberation of Ukraine from the Nazi Germany in 1945, and he paid tribute to the Ukrainians who fought and defeated Nazism in 1945 as he pledged to expel Russia from Ukraine.

Britain's Defense Ministry delivered a report Friday on Russia's capabilities in Ukraine. In the report posted on Twitter, the ministry said some Russian units in Ukraine have been manned with mobilized reservists and that the units are understaffed.
"In September 2022, Russian officers described companies in the Kherson sector as consisting of between six and eight men each. Companies should deploy with around 100 personnel," the update said.
The update said Russian ground forces in Ukraine are transitioning to "a long-term, defensive posture on most areas of the front line in Ukraine . . . likely due to a more realistic assessment that the severely undermanned, poorly trained force in Ukraine is currently only capable of defensive operations."
"Even if Russia succeeds in consolidating long-term defensive lines in Ukraine, its operational design will remain vulnerable," the Defense Ministry said. "To regain the initiative, it will need to regenerate higher quality, mobile forces which are capable of dynamically countering Ukrainian breakthroughs and conducting their own large-scale offensive operations."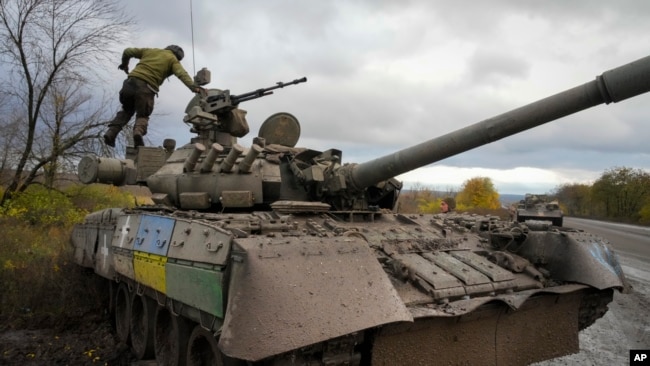 'Dirty bomb' allegations
IAEA Director General Rafael Grossi said Thursday that inspectors should arrive and start working in a couple of days at two facilities in Ukraine that Russia has alleged are diverting nuclear material to make a "dirty bomb."
"I had a very comprehensive discussion with [Ukrainian] Foreign Minister [Dmytro] Kuleba about this," Grossi told reporters at the United Nations in New York. "He came to the conclusion, and I agreed, that the best way to dispel any doubt is to allow the inspectors in."
For several days, Russian officials have alleged without evidence that Ukraine is planning to develop and use a so-called dirty bomb in its conflict with Russia. Ukraine and its Western allies have strongly denied the allegations and suspect they are being made as a pretext for some type of escalation in the war in Ukraine, possibly a "false-flag" operation by Moscow.
Dirty bombs combine conventional explosives with radioactive material and are designed to spread radioactivity that can cause death and contamination.
"In this case, there has been a very clear indication from a very high official of the Russian Federation about work – clandestine work, in fact – to divert nuclear material," the IAEA chief told reporters after he met with the U.N. Security Council in a private meeting.
He said IAEA inspectors would be looking to see if fuel at the facilities has been reprocessed in some way to extract two isotopes – caesium and strontium – that are used in making radiological bombs.
Grossi said inspectors would be able to make their conclusions within days.

He said one of the facilities the team is visiting they visited a month ago "with good result."
Grossi also briefed council members on his efforts to establish a demilitarized zone around the Zaporizhzhia nuclear power plant. Russian troops have occupied the massive plant since early March, while Ukrainian technicians continue to operate it. It has been the frequent site of shelling, raising the stakes for a nuclear accident.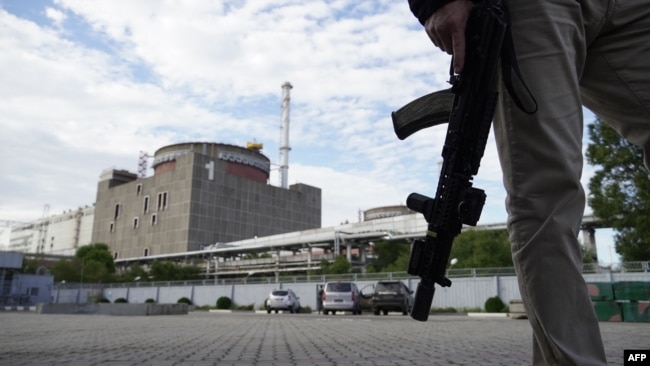 The IAEA chief has traveled between Moscow and Kyiv in recent weeks to discuss parameters for a demilitarized zone.
"This discussion is taking far too long," he said. "We should have concluded already; we should have established a protection zone.
He said this was one of his key messages to security council members.
"I hope to be able to do it in a matter of days, if possible," he said of the zone. "I will keep pushing, I can guarantee you that."
Power cuts
Earlier Thursday, Ukrenergo, Ukraine's state energy company, said it was limiting electricity use in multiple regions of the country after Russian attacks overnight targeted energy infrastructure.
Ukrenergo said damage from the strikes included equipment in the central part of the country. It said restrictions on power use are necessary to avoid network overloads and to make it easier to fix damaged facilities.
The new attacks on Ukrainian energy sites came as President Zelenskyy thanked workers in the energy sector for their efforts to stabilize the power grid.
Margaret Besheer contributed to this report. Some information came from The Associated Press, Agence France-Presse and Reuters.