The Georgian prime minister says Mikheil Saakashvili has been arrested in Georgia, hours after the former president claimed he had returned from exile on the eve of local elections.

Saakashvili was arrested by law enforcement officers and taken to a penitentiary, Prime Minister Irakli Garibashvili said on October 1, about 18 hours after Saakashvili announced he had returned to the South Caucasus country following an eight-year absence.
I am very firm, resilient, I came to help you, we had no other choice – I am not afraid of anything and you should not be afraid either -Saakashvili
Saakashvili, who was convicted in absentia and has lived in Ukraine in recent years, announced plans earlier this week to fly home for October 2 local elections, despite facing prison, claiming he wanted to help "save the country" amid a protracted political crisis.
The politician considers the charges against him to be politically motivated.
Garibashvili called the ex-president a "criminal."
"I want to inform the public that the third president of Georgia, wanted person Mikheil Saakashvili, has been detained. He has been transferred to the penitentiary," Garibashvili told a brief news conference.

Georgian law enforcement officials "had prior information about the movements of Saakashvili, starting from Ukraine, toward Georgia," he said, adding: "Relevant agencies worked in coordination and chose a time and place that would have minimal chance of external interference."
He did not provide details about the circumstances surrounding Saakashvili's arrest.

Saakashvili's whereabouts remained unknown for hours after he said in a video posted on Facebook on the morning of October 2 that he was in the Black Sea city of Batumi:
Authorities later said there was no record of Saakashvili crossing the border, and the ruling Georgian Dream party accused him of faking his return amid a protracted political crisis.

Earlier this week, Saakashvili said on his Facebook page that "the fate of Georgia is being decided. Georgia's survival is at stake, and that's why I took a ticket on the evening of October 2 so I can be with you and protect your (political) will with you, so I can take part in saving Georgia."

He also posted a photo of his purported plane ticket.

RFE/RL's Ukrainian Service quoted sources at Kyiv's Boryspil international airport as saying that Saakashvili "did not leave Ukraine" via the airport.
Georgian Deputy Interior Minister Aleksandr Darakhvelidze said the ex-president "did not cross the Georgian border," according to RFE/RL's Ekho Kavkaza.

"We got connected with the Ukrainian side. I can say precisely and for sure that Mikheil Saakashvili did not leave Ukrainian territory," Darakhvelidze said.
Garibashvili had said the police would arrest Saakashvili as soon as he stepped on Georgian soil.
Parliament speaker Mamuka Mdinaradze, a member of Georgian Dream, called Saakashvili a "fraud."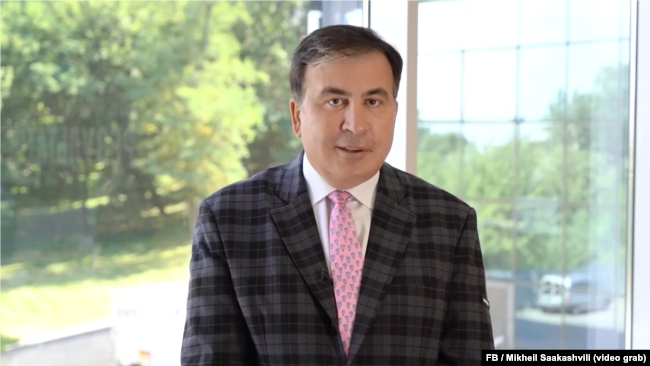 "All the video footage circulated by Saakashvili from night-time Batumi is fake and the latest clowning around," said Givi Mikanadze, another top party official.
In June 2018, Saakashvili was sentenced in absentia to six years in prison by a Georgian court which found him guilty of abuse of power and seeking to cover up evidence about the beating of an opposition lawmaker when he was president.
Tensions have been high in Georgia between the ruling Georgian Dream party and the opposition, which Saakashvili supports, since parliamentary elections last year which the opposition said were rigged.
International observers said at the time that the election had been competitive and that fundamental freedoms had generally been respected.
Before it annulled a political deal with the opposition brokered by the European Union, Georgian Dream agreed to call early parliamentary elections if it failed to secure at least 43 percent of the vote in the local polls.
Saakashvili served as president of Georgia from January 2004 to November 2013, when he was voted out of office.
In recent years, he has held several top government positions in Ukraine, and was briefly the governor of the Black Sea region of Odesa.
With reporting by AFP, RFE/RL's Ukrainian Service, and RFE/RL's Ekho Kavkaza