Small businesses are in recovery mode as the U.S. continues to reopen with the availability of more vaccines, and that's good news for many. Black- and women-owned businesses, especially, were disproportionately impacted by the pandemic due to already existing challenges of securing enough funding for a rainy day. Yet these businesses play a critical role in their communities. BIPOC businesses, a third of which are owned women, employ more than 8.7 million workers and annually generate more than $1 trillion in economic output.1
Visa has committed an additional $1 million to extend its She's Next grant and mentorship program to Black women entrepreneurs in six U.S. cities (Atlanta, Chicago, Detroit, Los Angeles, Miami and Washington, D.C). Grant applications are currently open until April 16, 2021 here.
We spoke with recent Visa She's Next grant winners about their best business pivots and entrepreneurial learnings as they prepare to get back to business.
Jasmine Marie
CEO and Founder, Black Girls Breathing
"It's important to know when to pivot and shift your plans. Watch the market and industry, use data and listen to your customers and audience. Deeply know and understand your value and what it is you have to offer. At Black Girls Breathing, we've been collecting data on Black women since inception. Now we're using this data to create change within the healthcare and research industries. This aspect of our work is our long-term plan to make mental health care services accessible forever."
Keanna J. O'Quinn
Founder, Honey+Vinyl
"My biggest challenge has been unlearning the need to plan. As a business owner and events professional, my work hinges on planning for the future, both creatively and logistically. Foresight helps to ensure that I can effectively lead my team to do our best work. And while the nature of my business will always require a pinch of planning, the unlearning translates to how I approach it. Moving forward, I'm leaving more room for change, and incorporating the practice of future pacing as a way to connect change to future situations or events."
Brandelyn Green
Founder, Voice of Hair
"Our business has grown extremely fast in the last year (2.5X more than the previous year). While this is a wonderful problem to have, it was a challenge to experience this during the pandemic when there were major supply chain disruptions. One way we were able to overcome this was through grant funding from generous programs such as the Visa x iFund Women grant. Another helpful thing we did was renegotiate our payment terms with suppliers so that we could break up the payments into smaller amounts."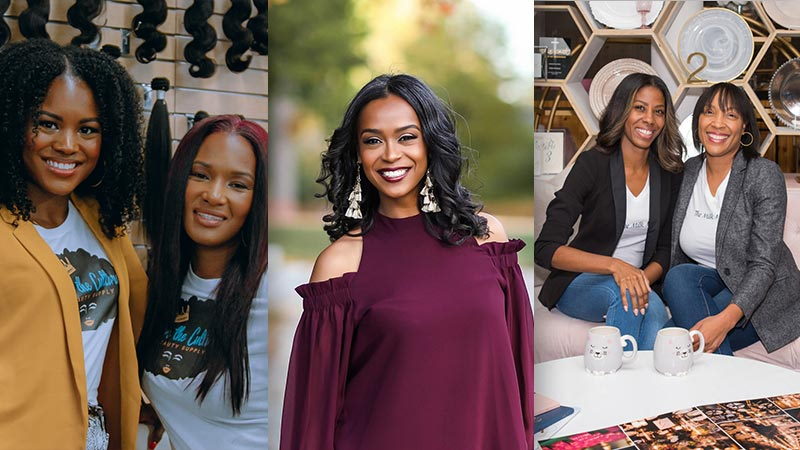 Cyndrea Mathews
Co-Founder, For the Culture Beauty Supply
"In order to ensure that we wouldn't have to close our doors for good [during the pandemic], we had to get creative about how to keep our business running. We began taking orders via phone/text, we expanded our online store, optimized shipping, and began offering curbside pickup and delivery. Once we noticed how much customers benefited from direct access to our store, we launched our mobile app to allow our customers to access our store directly from their phones, ask questions via the chat feature, and stay connected with instant notifications for updates on their favorite products. Making these adjustments to our business model helped us overcome the challenges we faced and continue to expand our business even during these unprecedented times."
Jacquelyn Rodgers
Gina VanCant
Founder, Greentop Gifts
"Historically, we have participated in large holiday marketplaces and conventions to grow our customer base. We planned popup and parties to engage our shoppers. These were not an option in 2020 and we had to shift to developing stronger online content and email marketing to share our products. [When facing challenges,] don't be afraid to ask your current network for help! Reach out to anyone in your own personal network who might be able to help you get around the corner or open the door to the project you are working on. Some conversations will go further than others, but I used every resource I had to keep my business thriving through everything we experienced in 2020."
Co-Founder, The Milk Mission
"Seeing breastfeeding disparities in the African American community stirred myself and business partner to start the Milk Mission. With social distancing practices in place, lactation education and support services for African American woman has become even more difficult to access. The Milk Mission transformed its traditional in-person lactation services to virtual consultations and began utilizing a tele-health platform. Women can now receive the same quality care from the comfort of their home. We believe that it is critical to ensure that people who are breastfeeding or who desire to breastfeed continue to have access to this support."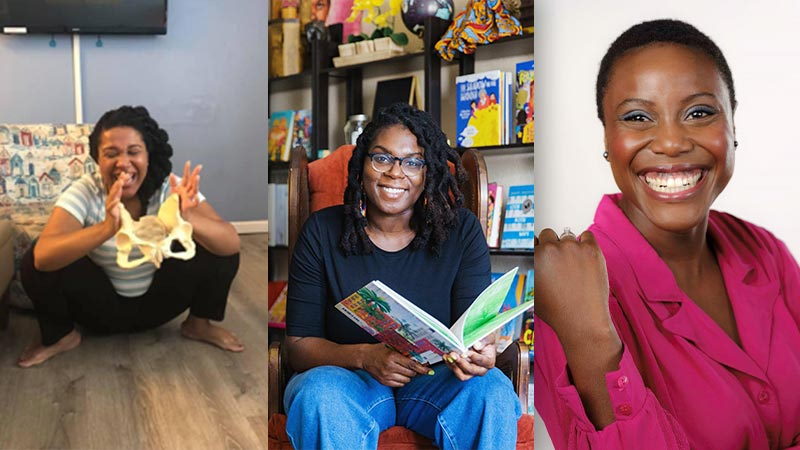 Samantha Griffin
Founder, DC Metro Maternity
"Our work as doulas has always been incredibly "high touch" and in person, so making the switch to distancing and some virtual work was tough. I moved classes online quickly, and have since developed an online curriculum for our clients. We've also done Instagram Lives with experts and shared information on our blog and various social media channels. Families actually have more access to information from us than ever before, while still being able to be cautious about potential COVID exposure."
Lorielle J. Hollaway
Founder + Dreamer, Cultured Books Literacy Foundation
"My biggest challenge this past year has been navigating imposter syndrome. When I began this journey of creating a multicultural children's bookstore with no cost to the community it was a lofty idea. After the murder of George Floyd and the nation's immediate support of anything Black-owned, the attention catapulted Cultured Books to a bigger audience. Our ideas are now doable. Receiving what you've manifested can be a bit scary when it's sitting in your lap. During this moment I've learned from fellow entrepreneurs to show up authentically and unapologetically you. Consumers want to know the human behind the brand, so showing up as someone else will most likely leave you exhausted, burned out or even diverting from your initial mission."
Naa-Sakle Akuete
CEO & Founder, Mother's Shea
"Our biggest challenge this past year has been ensuring that we have enough inventory to meet consistent and growing customer demand. With the help of grants (like the one through Visa's She's Next grant program) and loans, we have been able to remain stocked across our retail channels. When things are as crazy as they are right now, you can't afford to be distracted by things that aren't actually in your wheelhouse so it's important to be clear about who you are as a brand and then focus on your core competencies."