Energy facilities throughout Ukraine were targeted by a new wave of Russian strikes on October 22, while Kyiv's air defense shot down several missiles above the Ukrainian capital.
Local officials said power stations were hit in the regions of Odesa, Kirovohrad, and Lutsk, while other regions reported problems with electricity.
"Another rocket attack from terrorists who are fighting against civilian infrastructure and people," the Ukrainian president's chief of staff, Andriy Yermak, wrote on the Telegram app.
Kyiv Mayor Vitali Klitschko said that air defense shot down several rockets that were flying in the direction of the capital.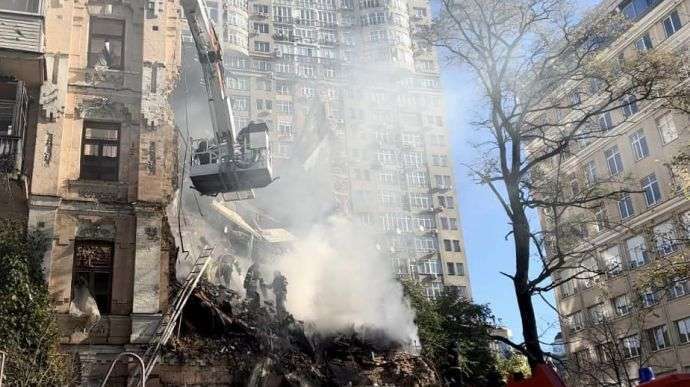 "Several rockets flying towards Kyiv were shot down in the region by air defense forces. Thanks to our defenders!" Klitschko said, while local police chief Andriy Nyebytov posted a photograph of a column of smoke rising from a forest where he said the missile debris had landed.
Prime Minister Denys Shmyhal told a government meeting that from October 10 to October 20, Russian strikes damaged more than 400 facilities in 16 regions of Ukraine, including dozens of energy installations.
"The Russian Amy has identified our energy sector as one of the key targets for its attacks," Shmyhal said on October 21.
"Russian propagandists and officials speak openly about the purpose of all these attacks: Ukraine, according to them, should be left without water, without light, without heat," he said.
Meanwhile, Ukrainian forces shelled Russian positions in the occupied and illegally seized southern Kherson region, targeting Moscow's resupply routes across the Dnieper River in apparent preparation for a full assault on Kherson city, one of the first urban areas occupied by Russia at the start of the invasion.
Ukrainian President Volodymyr Zelenskiy's office said 88 settlements in the southern Kherson region and 551 settlements in the northeastern Kharkiv region have been "de-occupied," while the Ukrainian forces' counteroffensive in the Kherson region moves ahead.
Kyrylo Tymoshenko, deputy head of Zelenskiy's office, reported the data on Telegram, broadcasting results since the Ukrainian military launched the counteroffensive several weeks ago in the Kherson direction and before that in the Kharkiv direction.
Zelenskiy added in his nightly video address on October 21 that the Ukrainian forces had shown "good results" in capturing Russian arms in Kherson.
Ukraine is trying to drive Russian forces in Kherson back east across the Dnieper. Russian soldiers on the western bank, where the city of Kherson is located, are reportedly close to being cut off from supply lines and reinforcements.
Natalya Humenyuk, a spokesperson for Ukraine's southern operational command, said the Ukrainian military struck the Antonivskiy Bridge over the Dnieper in the city of Kherson during an overnight curfew Russia-installed officials put in place to avoid civilian casualties.
"We do not attack civilians and settlements," Humenyuk told Ukrainian television.

Ukrainian strikes made the Antonivskiy Bridge inoperable, prompting Russian authorities to set up ferry crossings and pontoon bridges to relocate civilians and transport supplies.
Russia has sent in thousands of recently mobilized troops to reinforce the defense of Kherson, the General Staff said earlier on October 21.
"Up to 2,000 mobilized Russians arrived in the temporarily captured Kherson region to replenish losses and strengthen units on the contact line," the Ukrainian General Staff said in a statement.
"At the same time, the occupation authorities issued an order to prepare for the evacuation of the so-called 'banking institutions' and Russian medical workers and teachers," the statement said.

Russian-installed officials are trying to evacuate up to 60,000 people from Kherson for their safety and to allow the military to build fortifications.
Zelenskiy again on October 21 urged the West to warn Russia not to blow up a dam at the Nova Kakhovka hydroelectric power plant on the Dnieper River as this could flood settlements in the direction of Kherson.
Zelenskiy said Russian forces had planted explosives inside the dam, which holds back an enormous reservoir, and were planning to blow it up.
"Now everyone in the world must act powerfully and quickly to prevent a new Russian terrorist attack. Destroying the dam would mean a large-scale disaster," he said in his nightly address.
Zelenskiy's chief of staff Andriy Yermak tweeted that Moscow's "nuclear blackmail" had failed to intimidate Ukraine and its allies, so now the Russians "are trying to scare everyone by blowing up" the dam.
"Ukraine will not succumb to peace by coercion…. They won't break us. We will hit back even harder," Yermak wrote.
Japanese Prime Minister Fumio Kishida, on a visit to Australia, also warned that the use of a nuclear weapon by Russia in the war in Ukraine would be considered an "act of hostility against humanity."
"Russia's act of threatening the use of nuclear weapons is a serious threat to the peace and security of the international community and absolutely unacceptable," Kishida said on October 22.
With reporting by Reuters, AFP, AP, and BBC