KFC is Twitter's Most Hated Fast Food Brand
Don't give in to hate, Luke. That leads to the dark side.
You know that quote, right? From the popular Disney-branded Star Wars franchise. The franchise you hate more with every new episode – and continue to hate-watch anyway.
Obi-Wan was onto something. Just look at Disney. We found that more than a third (34.32%) of tweets about Disney were negative towards the brand – yet, Disney share prices rose 125% last year, even with its theme parks closed.
When you give in to hate, your tweets provide free publicity for the dark side (whatever you consider the dark side to be). And the brands we hate the most are often the least vanilla. Better to divide opinion than to inspire no opinion at all.
RAVE Reviews used the research tool SentiStrength to assess over a million brand-related tweets for positive or negative content. We calculated the hate rate (% of negative tweets) and ranked the brands by location and category to find the most hated brands in every country.
We defined 'biggest brands'/'popular global brands' as those with the highest search volume on Google.
Key Findings
Uber is the most hated brand in both the US (48.35% negative tweets) and the UK (47.88%).
Uber is also the most hated brand in the highest number of American states (8).
Video game developer Game Freak has a 100% hate rate in Canada.
Sony is the 'popular global brand' that is the most hated in the most countries (10, including Canada, Argentina, and Greece).
Sony is the Most Hated Brand in 10 Countries
We used Google Keyword Planner to curate a list of 100 of the biggest global brands according to search volume. Then we scraped each one's mentions from Twitter and assessed which brands got the most hate.See also Top US Military Officer Defends China Calls
The most widely hated big brand is Sony, which has the highest hate rate in 10 countries. As an electronics manufacturer, gaming console brand, and movie producer, the Japanese conglomerate is perfectly positioned to get under fans' skin with every decision Sony's execs make.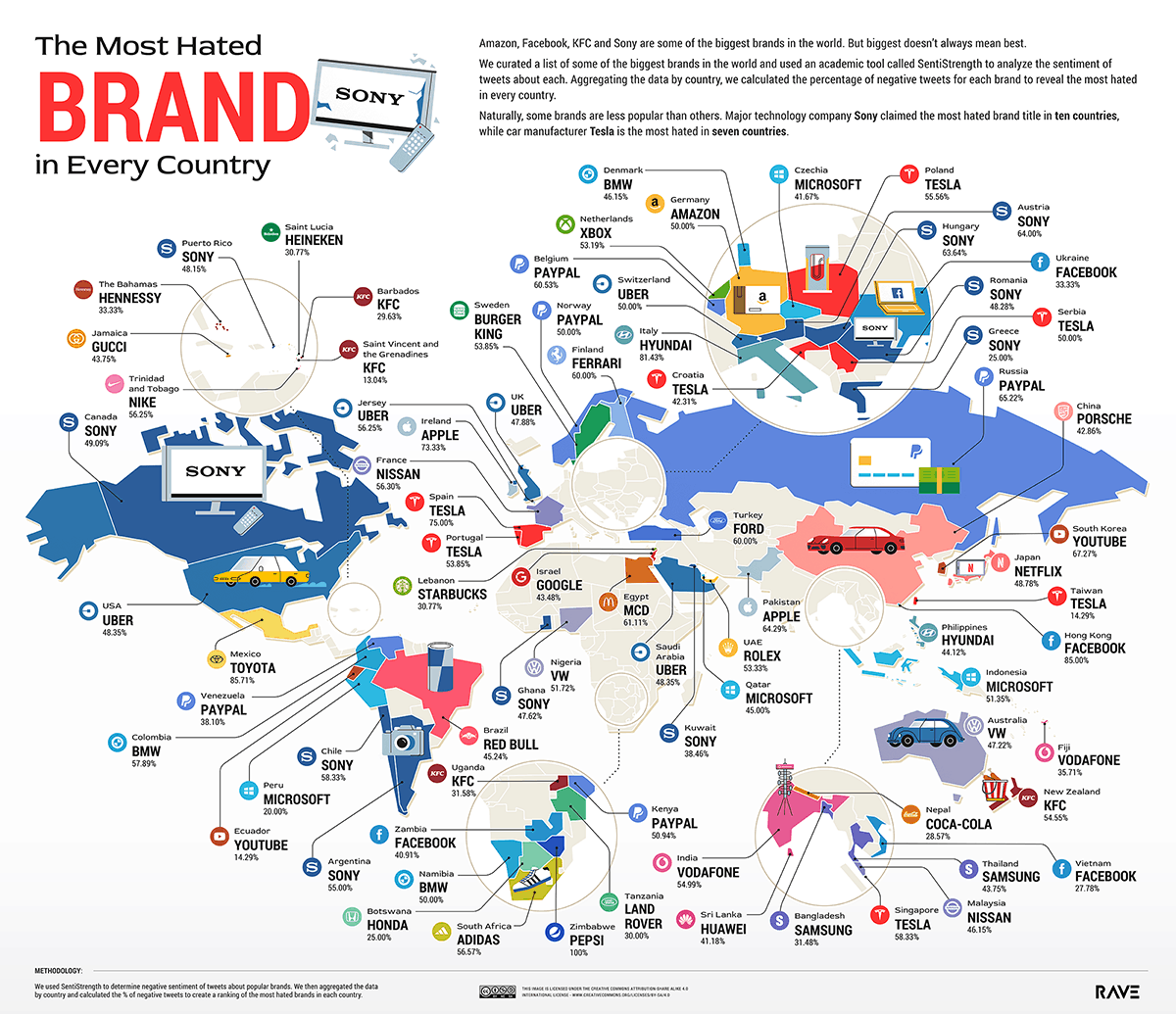 In second place comes Tesla, which is the most hated brand in seven countries, including Spain – where it has a 70% hate rate. Paypal and Uber are next, with five countries each – both are brands that may drive you to hate-tweet while you're waiting for them to fulfill their promised service.
Developers of Assassin's Creed Battle Street Fighter for Most Hated Gaming Brand
Perhaps no fandom loves to hate as much as gamers. With fierce opinions, hours of personal investment, and a complex relationship between gaming and psychosocial problems, gamers want to tell people about it. They complain about Ubisoft the most. The Assassins Creed developer is the most hated gaming brand in 23 countries.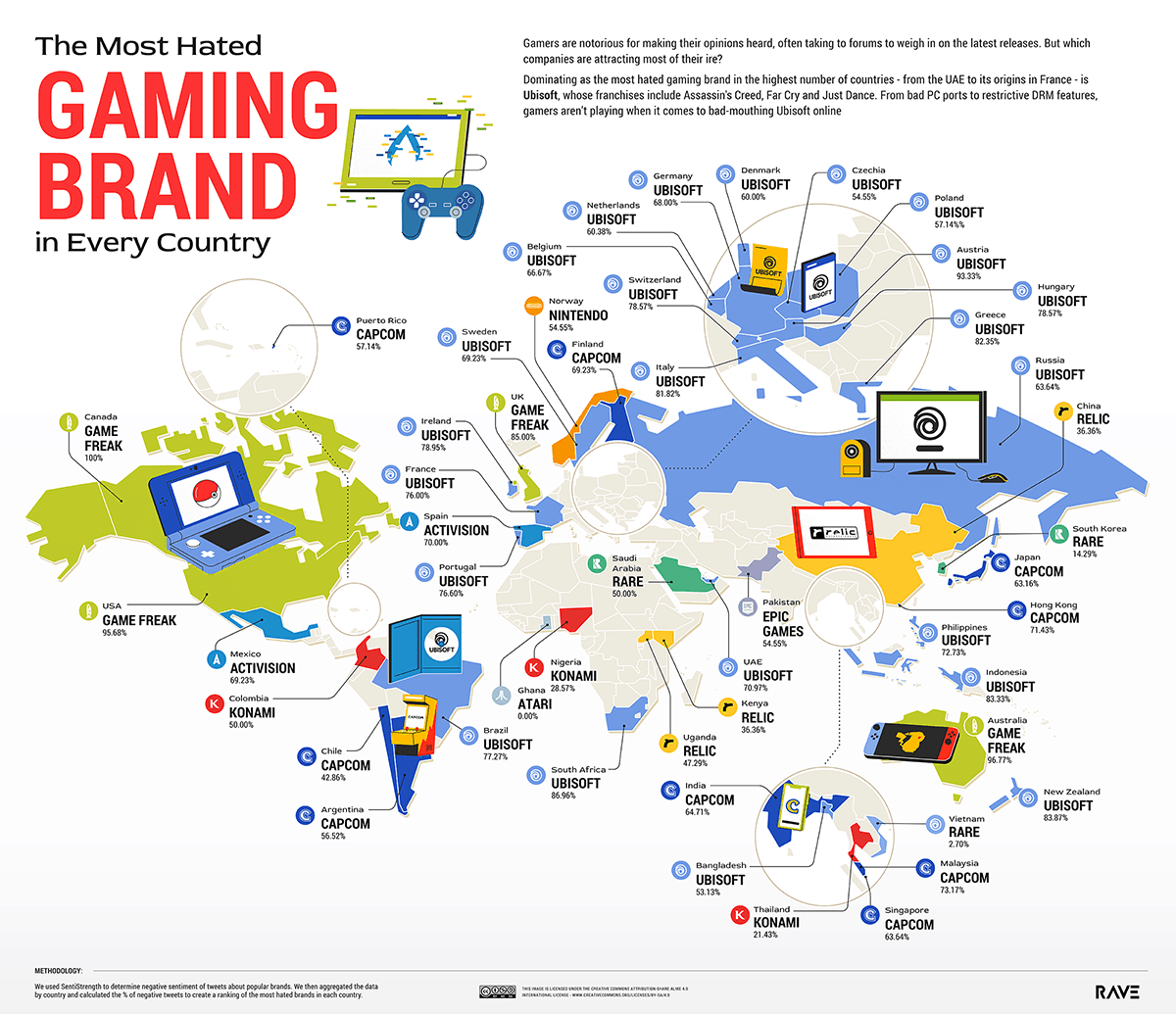 Capcom is number two, most hated in nine countries. The Street Fighter producer aggravates fans with buggy code and curious, creative decisions. Conversely, loveable games brand Nintendo is most hated only in one country: Norway. "Does Nintendo know that they're essentially killing Nintendo Online's SNES/NES emulator by releasing ONLY shit/forgettable games?" complains @TinyFluffyGoat.
KFC is Twitter's Most Hated Fast Food Brand
Everybody loves Colonel Sanders, right? Nope. Kentucky Fried Chicken is the most hated fast-food brand in 14 countries. "Kfc is overrated," reports one user. "Thats the tweet." An hour later, with 100+ replies, she adds: "Toxic kfc fans attacking me."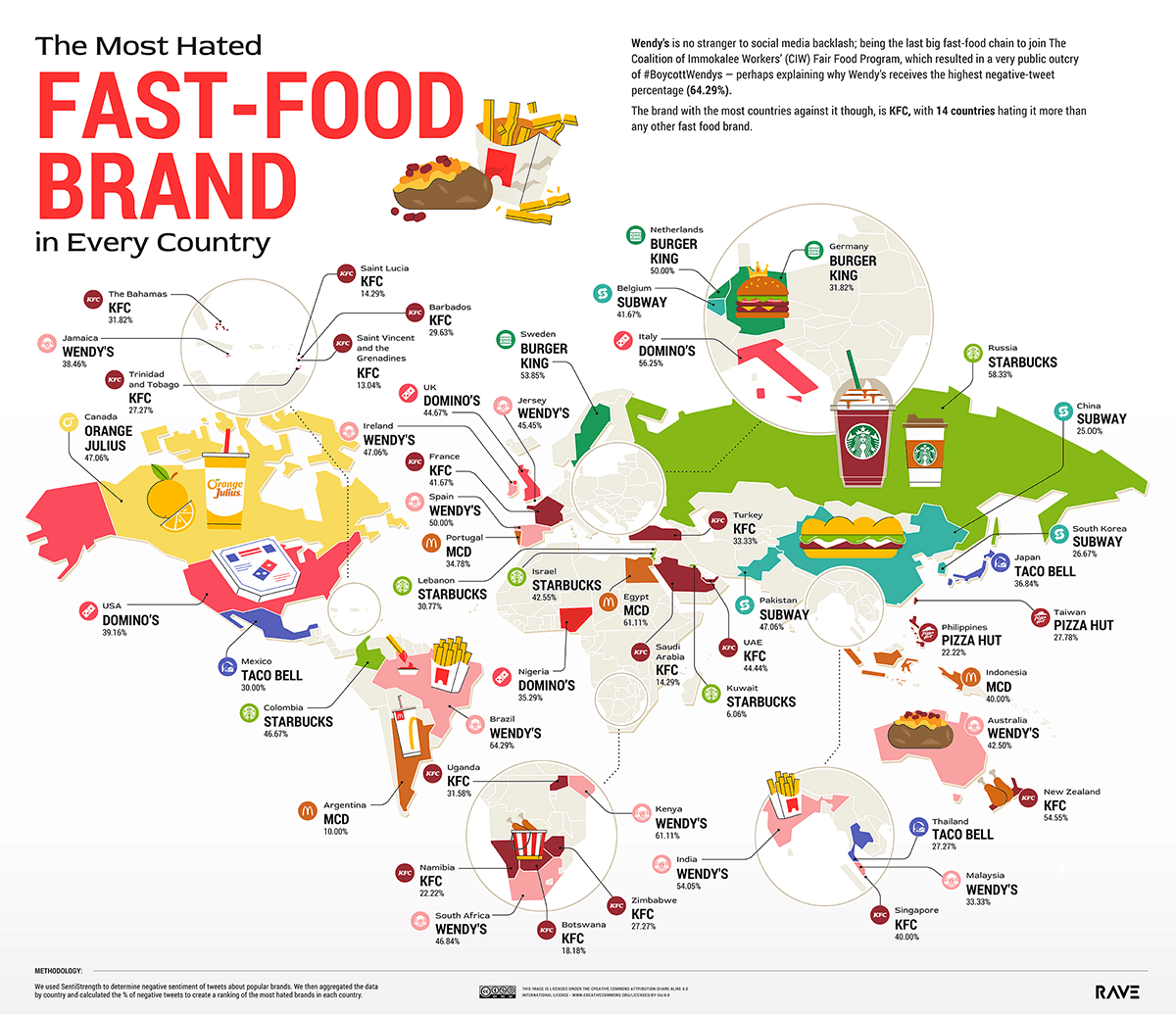 Just a few years ago, McDonald's was the second most hated brand in the world. Today, it's the most hated fast-food brand in just four countries. Sadly, for McDonald's, this isn't necessarily good news: some countries have banned the restaurant altogether, which is one way to reduce negative publicity. And reflecting its unpopularity back on its customers isn't exactly a loveable move: "When people see litter on the street, and they see a brand on that litter, they quite rightly have an enormous emotional response to that," explains a VP at British McDonald's, when asked why the brand is so hated.
Microsoft Most Hated Big Tech Brand in 22 Countries
Collectively, big tech brands are most hated in 12 countries. But the real fight here is the battle between the digital brands that thread through our daily lives. Perhaps surprisingly, Microsoft takes the crown as most hated in 22 countries. By comparison, Facebook and Google have 24 countries between them.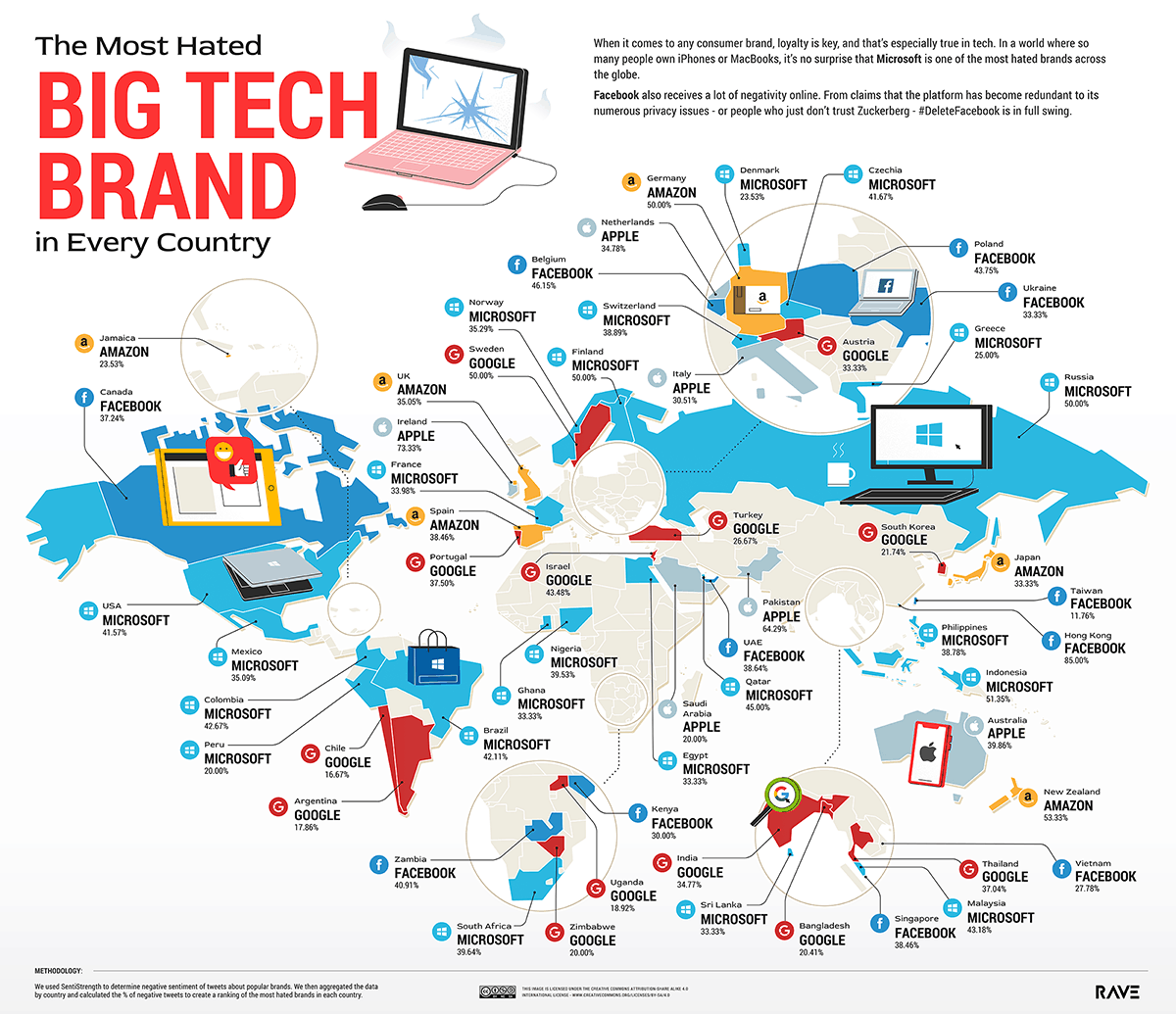 Amazon is most hated in just six countries, but remember that Amazon is only active in 18 countries. Jeff Bezos has established a presidential relationship with his customers, drawing ire for exploiting workers and blowing his money on vanity projects and winning fanboys for just the same behavior.
Uber is Driving the UK Mad
Uber takes the crown for most hated brand in the UK. Brits have a complex relationship with the ride-hailing firm. Uber's presence added much-needed competition to the often pricey cab landscape in the UK, but drivers have had to fight for worker's rights, and the firm has twice been banned in London for safety issues. "I remember when I felt weird sitting in the back of an Uber alone," begins one tweet. "Now I'd rather die than sit in the front."

Nissan may seem an unlikely target for the UK's Twitter army. But the Japanese company is at the heart of the controversy over the viability of foreign firms in the UK post-Brexit. Unlike other manufactures, Nissan pledged to keep its factories in the UK – in return for a controversial £100m in state funding.
New York State Hates Lancôme
You can use this map to identify the most hated brand in your state. Reflecting the countrywide statistics, Uber is most hated in the most states (eight), followed by LEGO (six).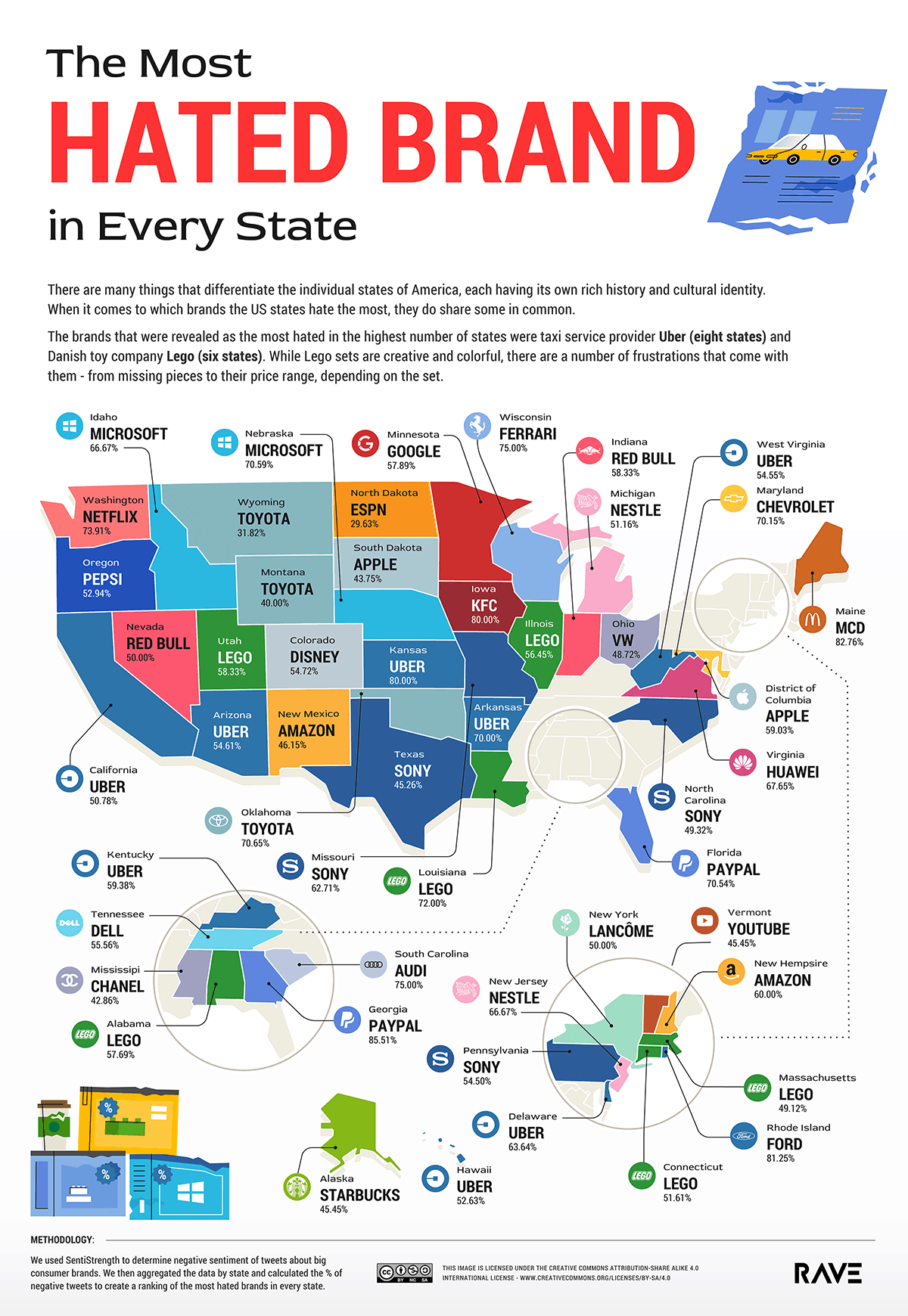 One-offs include Lancôme (New York) and Chanel (Mississippi). These brands may be much-loved, but Twitter reveals their prices are less popular. Georgia is the state with the most hate: an 85.51% hate rate for PayPal.
LEGO is the Second Most Hated Brand in the US
Uber is also the most hated brand in the United States. And, like the UK, the second most hated comes as a surprise. After all, what has LEGO ever done to hurt anybody? "Stepping on a #lego is the worst feeling!!!!" points out one Twitterer.

Other (un)popular hate-brands from around the world fill out the remainder of the Top 10. Red Bull seems to be a victim of its success: branding partnerships with multiple teams and events mean the energy drink's name tends to get mentioned in curses and insults aimed at Red Bull's partners.
No Publicity is Bad Publicity
In the end, people may hate these brands – but they're still talking about them. Use the interactive table below to find the brands that Twitter users are grumbling about the most near you.https://embed.neomam.com/most-hated-brands/
METHODOLOGY & SOURCES
We compiled a list of some of the biggest global gaming, fast food, tech brands and ISPs within the UK and US. Using Twitter's API, we pulled tweets mentioning these brands.
We then used language analysis tool SentiStrength to determine the sentiment of tweets (considering tweets with a negative component from -5 to -2 as negative). Aggregating the data by country and US states, we calculated the % of negative tweets and ranked the brands to reveal the most hated in each region. For all countries, we omitted brands without at least 10 unique users tweeting about them.
Business Financing. (2021). The Most Popular Consumer Brand in Every Country. businessfinancing.co.uk
Forbes. (2019). THE WORLD'S VALUABLE BRANDS. forbes.com
Financial Times. (2019).Top 100 global brands 2019: the full ranking. ft.com
ISP Review. (2021). UK ISP Listing. Ispreview.co.uk
Broadband Now. (2021). The Complete List of Internet Service Providers in the US. broadbandnow.com
Broadband. (2021). Fixed Line Broadband Providers. broadband.co.uk
J. Clement. (2021). Number of video gamers worldwide 2015-2023. statista.com
N. Scheiber. (2019).Why Boycott Wendy's? boycott-wendys.org
H. Tankovska. (2021). Online dating in the United States – Statistics & Facts. statista.com
M. Davis. (2020). National Income and Product Accounts. apps.bea.gov