Polls have officially closed in Canada for a tightly contested general election pitting incumbent Prime Minister Justin Trudeau against conservative rival Erin O'Toole.
With multiple time zones, Canada's polling stations closed at staggered times throughout the evening on Monday, but Elections Canada said in a tweet that those in line will still be allowed to vote.
Canadians gave Prime Minister Justin Trudeau's Liberal Party a victory in Monday's parliamentary elections, but his gamble to win a majority of seats failed and nearly mirrored the result of two years ago.
The Liberals won the most seats of any party. The 49-year-old Trudeau channeled the star power of his father, the Liberal icon and late Prime Minister Pierre Trudeau, when he first won election in 2015 and has led his party to the top finish in two elections since.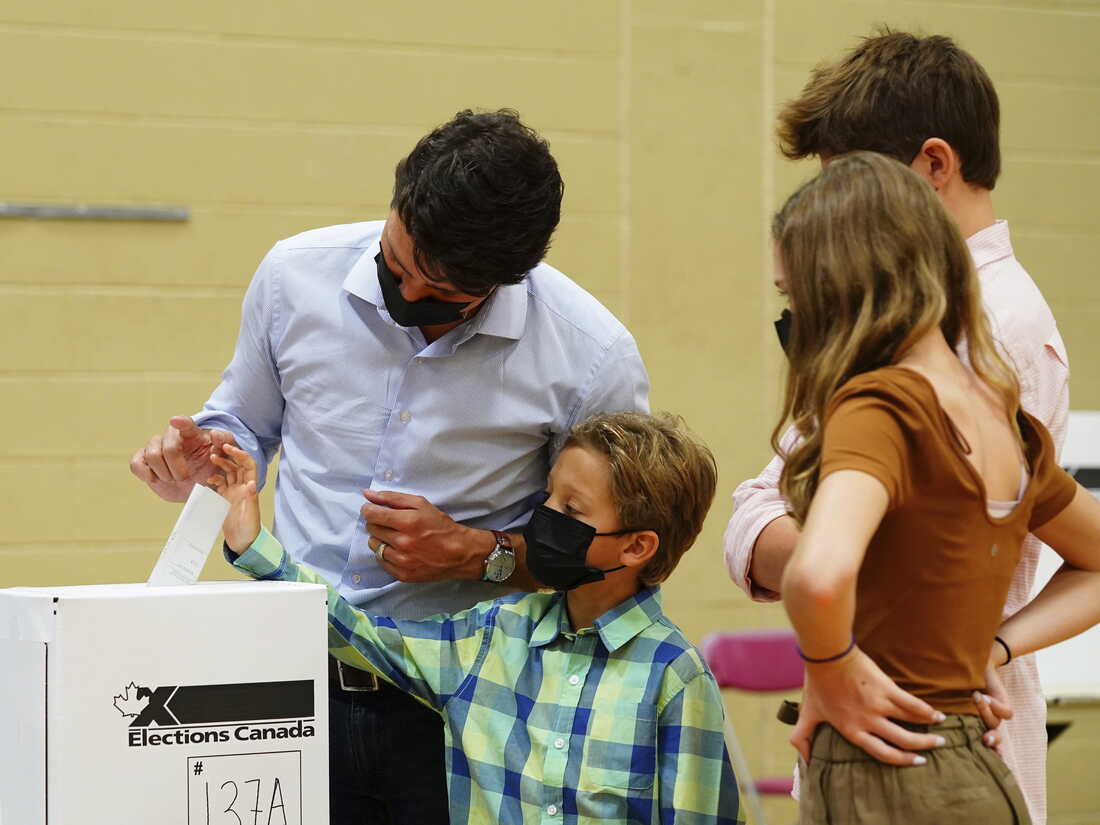 Trudeau's Liberals were leading or elected in 156 seats — one less than they won 2019, and 14 short of the 170 needed for a majority in the House of Commons.
The Conservatives were leading or elected in 121 seats, the same number they won in 2019. The leftist New Democrats were leading or elected in 27, a gain of three seats, while the Quebec-based Bloc Québécois remained unchanged with 32 seats and the Greens were down to two.
"You are sending us back to work with a clear mandate to get Canada through this pandemic," Trudeau said.
Trudeau called the snap election in mid-August, barely two years into his minority government, betting he could capitalize on his handling of the pandemic to win a majority in Parliament.
But once-favorable polls for Trudeau and his Liberals quickly reversed course, with the Conservative Party's O'Toole fighting his way into a statistical tie, according to national tracking surveys over the past few days.
Covid-19, climate change, housing affordability and gun control have all featured as major issues with voters, but one issue for Trudeau is that few Canadians see the need for this election. One political expert told CNN that holding a snap election in the summer during a global pandemic has angered many voters who cannot identify a compelling "ballot box" issue to justify the undertaking.
"I hear you when you say you just want to get back to the things you love and not worry about this pandemic or an election."
Trudeau entered the election leading a stable minority government that wasn't under threat of being toppled.
The opposition was relentless in accusing Trudeau of calling an unnecessary early vote — two years before the deadline — for his own personal ambition.
"Trudeau lost his gamble to get a majority so I would say this is a bittersweet victory for him," said Daniel Béland, a political science professor at McGill University in Montreal.
"Basically we are back to square one, as the new minority parliament will look like the previous one. Trudeau and the Liberals saved their skin and will stay in power, but many Canadians who didn't want this late summer, pandemic election are probably not amused about the whole situation," he said.
Trudeau bet Canadians didn't want a Conservative government during a pandemic. Canada is now among the most fully vaccinated countries in the world and Trudeau's government spent hundreds of billions of dollars to prop up the economy amid lockdowns. Trudeau argued that the Conservatives' approach, which has been skeptical of lockdowns and vaccine mandates, would be dangerous and says Canadians need a government that follows science.
As much as candidates have tried to engage meaningfully on issues, a ripple of polarization among voters — one that seems to mirror the US experience — is emerging, especially on cultural or so-called "wedge" issues like abortion rights, gun control and climate change.
The pandemic in particular has ignited fury among a small but fierce minority that oppose some Covid-19 protocols, especially vaccine and mask mandates.
Earlier this month a protester threw gravel at Trudeau at a campaign event in Ontario, after the Canadian leader had been stalked by demonstrators angry with his pandemic policies.
The vote includes six federal parties. While Trudeau and O'Toole are likely the only leaders capable of forming a government, given their national support, Jagmeet Singh, leader of the New Democratic Party (NDP), polls well and could again hold the balance of power in any Canadian Parliament.