This pilot also improved evidenced-based policy-making and enhanced contractual management capacity of public agents to promote efficient and accountable public services.
---
Challenge
The existing SA delivery programs in Vietnam are delivered through lengthy manual processes which involve extensive physical contact and interaction. Up to 99 percent of SA payments are made in cash. The current arrangements expose several problems and challenges, the cost of which is exacerbated by the ongoing COVID-19 pandemic. Digital payment methods appear as a promising solution.
The government has set a clear direction and action plans to reduce cash transactions and increase electronic payments. A broad legal framework that supports this move is put in place. In addition, the State Bank of Vietnam is consciously taking steps to build the necessary digital payment infrastructure.
Approach
Outreach and payment service of SA programs for ethnic minorities were piloted with emphasis on women and youth. The pilot focused on enhanced modes of communications, outreach, and payment such as informing people about programs, potential eligibility, process for participation, support in the application process by using local languages and document preparation. The pilot also provided insights into ways for tailoring SA delivery systems to the needs of ethnic minorities to improve awareness, access and ultimately household welfare.
To increase access to social assistance benefits of ethnic minority groups the pilot adopted the following approaches:
Simplifying process for updating registration and payment
Improving beneficiary identification (issuing identification (ID) for those who don't have or lost IDs)
Simplifying supporting documents and make it easier for beneficiaries in applying for financial account opening or payment cards
Better informing the beneficiaries of their rights, benefits, and entitlements
Facilitating instant transfer and flexible withdrawal of benefit money
Improving financial literacy for beneficiaries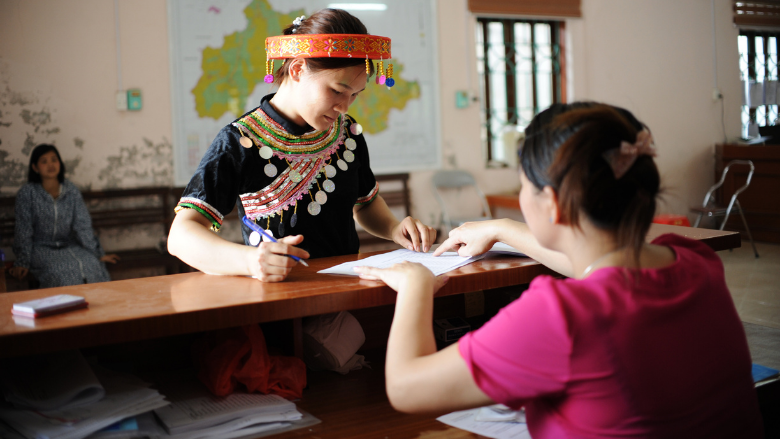 Before the pilot, cash-outs of social benefits were only possible on fixed "payments days" and required in-person attendance. In some instances, people showed up on schedule only to find out that their allowance had not yet arrived. Photo: The World Bank
---
Results
The first phase of the pilot, which was implemented from January to December 2019, delivered notable outcomes:
Facilitating safer, faster, and more convenient transfer of social benefits for 3,100 residents, a majority of them are ethnic minorities
Enhancing capacity for 4 existing payment service providers and drawing in several commercial banks to join the next phase of the pilot
Building a foundation for Vietnam's Ministry of Labor Invalids and Social Affairs (MOLISA) to scale up the pilot and develop more detailed guidance for the deployment of e-payments nation-wide
Paving the way for the adoption of e-payments in the broader social protection program in Vietnam and creating momentum for the government to improve the effectiveness of program management
This pilot is under a broader program which aims to improve access to social assistance for ethnic minorities in Vietnam. The Australia Government provided AU$750,000 to implement the program during the period 2017-2021. The World Bank implemented the first-phase pilot in close collaboration with Vietnam's Ministry of Labor Invalids and Social Affairs and the Cao Bang Provincial People Committee.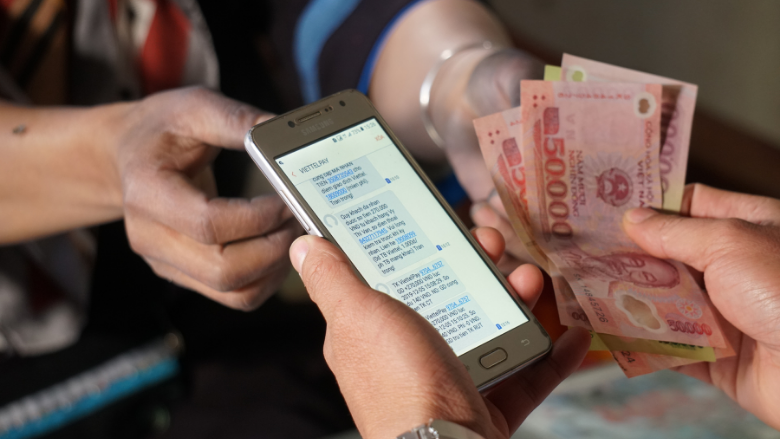 Using mobile money allows local residents to easily check the exact amount of their allowance and whether it has been deposited to their accounts. They can choose when and where to withdraw the cash from a local network of mobile money agents. Photo: The World Bank
Moving Forward
After the first phase of the pilot ended on a successful note, MOLISA decided to expand the pilot to Ho Chi Minh City, Lang Son and Thua Thien Hue provinces. Lessons learnt from the first-phase pilot also informed MOLISA's decision to include an article about e-payments for social assistance payment in the new Degree number 20/ND-CP/2021 which replaces Decree 136/ND-CP/2013 regulating the implementation of the social assistance program. The second phase of the pilot is expected to inform MOLISA in developing operational guidance to support the adoption of e-payments nation-wide.
The World Bank continues to work with MOLISA to support Vietnam deliver better SA services, especially the disadvantaged groups and ethnic minorities. This ongoing collaboration also contributes to improving Vietnam's financial inclusion and helps the country meet its ambitious target of moving towards a cashless society.
Beneficiaries
"Before the pilot, it cost us a lot of to pay allowance to beneficiaries in cash. After receiving advanced payment from Treasury, our department had to make a payment list, distribute cash to communal officials who would then transfer them directly to beneficiaries. We had to go back to Treasury to return any fund allocated but unspent – this happened if some of beneficiaries on the list failed to receive their eligible allowance. The introduction of e-payment methods has eased our workload ever since."– Dinh Thu Huyen, Accountant at the Department of Labor, Invalids and Social Affairs of Quang Uyen District, Cao Bang Province
"The pilot opened a bank account for me. Whenever there is new money coming in, I will receive a SMS. I can withdraw money anytime I want. I just need to show the SMS and my ID card to the staff at the payment point, they will give me the money. I find it more convenient." – Vi Thi Van, Single-mom, Quang Uyen District, Cao Bang Province